It's been a surprisingly fertile 3 months for Ambient music, with some heavy hitters (Brian Eno), some veterans (Forrest Fang) and some brilliant sophomore efforts (Vermont) leading the charge. Here's what you may have missed so far.
Brian Eno - Reflection
The venerable Brian Eno dropped by with
Reflection
on new years day, and it was a breath of fresh air in a genre he helped create. Although his 2016 album
The Ship
was high quality, he purveyed the feeling through
LUX
in 2012 that ambient music was disposable and anonymous. He's already explored the boundaries of the genre, notably on 2010's
Small Craft On A Milk Sea
and classics like
Discreet Music
, but
Reflection
went even further. While courting the idea of ambient music being unceasing, ever-present, ever-changing, he released an
app
that plays ambient music indefinitely, gradually shifting according to the time of the day. All of this may interest you greatly, or maybe you just want to hear a titan of the genre back in top form.
Reflection
is a king re-affirming his place on the throne, it's gentle but powerful, a wave of soft noise that gradually peels on a twilight beach. It's brilliant.
Max Richter - Three Worlds: Music From Woolf Works
The incredible cover art is just the start of this score. There's a reason why, when you search for the best ambient artists in Spotify, you find a slew of scores among their discography. Clint Mansell, Hans Zimmer, Harold Budd, Max Richter. Ambient music falls into two categories: decadent and elegant background music, or evocative and emotional music you ride, like a wave. This record takes from the score of a Royal Ballet production, and the delicate touches and whispered refrains conjure images of slight dancers making merry with the laws of gravity. Alas, while the music is incredible by itself, it feels as if witnessing the full ballet production first hand, with this cinematic music as the score, would be a breath-taking experience.
William Basinski - A Shadow In Time
The way William Basinski is able to manipulate your conscious mind with loops and samples is utterly unique, and quite terrifying. His
Disintegration Loops
series was ominous, described in part by
Sputnik Music
as the death of sound.
A Shadow In Time
might be seen similarly, a slow graveyard march of a once vibrant sound, the final knell drawn out into what feels like eternity. His tribute to the late, great David Bowie, "For David Robert Jones", has a forlorn saxophone section that sounds like a distant boat horn, played from beyond the veil. It's not a siren song, it's a mournful riff and one of the most gut-wrenching pieces of music to be released in the last 15 years. This is where music comes to die, and it's not glamorous, but it's truly astonishing and beautiful in its own way.
Noveller - A Pink Sunset for No One
Reviews for this record contained some form of the phrase "no real change from her old stuff". It's almost as if, as soon as you strap a guitar over your shoulder, the rules of ambient music go out the window (which is odd considering the glacial movement of critical darlings like Low). The guitar is an instrument to be abused, to be thrashed, to be loud and powerful. Yet Lipstate turns it into a graceful delicate piece of artistry, running loops and dragging notes out till they are almost see-through. A Pink Sunset for No One is the closest marriage of ambient and rock music of her career so far, each track feels like a refrain during a Fleetwood Mac concert, the kind that induces tears and gushed praise for the bands artistic ability. Noveller has been doing it for 8 albums now.
Vermont - II
Vermont toe the line between ambient and electronica, and it's a delightful dance to watch, full of confidence. There are large stretches of atmospheric asides ("Chemtrails" through "Skorbut") and more adventurous touches of jazz ("Unruh") and drum & bass ("Wenik"). Like any skilled producer, the tracks huddle together, manipulating mood and listener reaction. The mid-album palate cleanser, "Ufer", is the perfect bridge between the more assertive first half and a more immersive second half.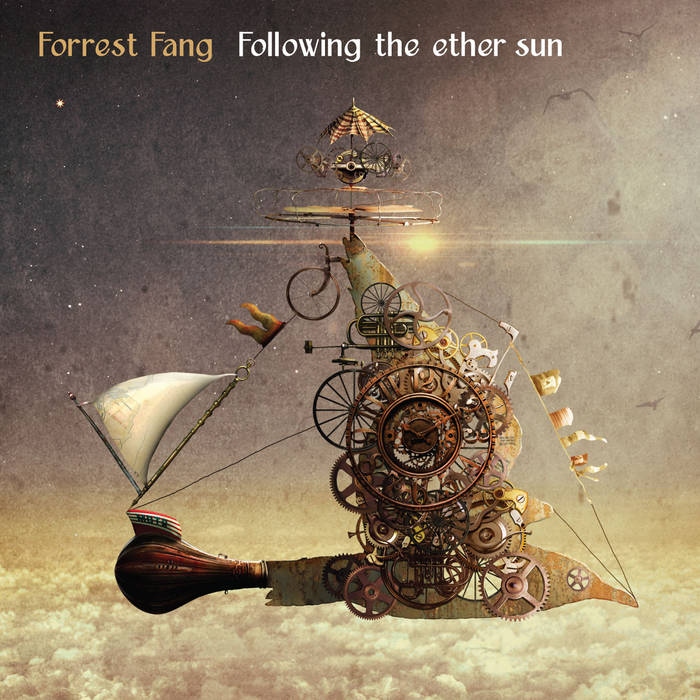 Forrest Fang - Following The Ether Sun
I spoke to Forrest about this album and he told me he likes to create music with a blank mind, to best allow listeners to pour their own emotions into the music and draw their own conclusions. That said, my review now takes on new meaning for me. It made me feel like Forrest was chasing a dream, or a consciousness beyond what we know to be possible. I mentioned a sense of loneliness, and it's become clearer over time that that sense of loneliness is my own, an isolation of my own doing while chasing this "ether sun", or to me, a state of numbness, without anxiety or provocation. It's rare that we are forced to look at our own mortality, it's even rarer that we're made aware of that gaze by someone we haven't even met. Only a truly special piece of music could do that.
A Winged Victory For The Sullen - Iris
This duo is the most refreshing voice in ambient music, which is high praise considering the drought-breaking post-2010 period has seen us awash with new artists and albums.
Iris
, the score of the
2016 movie of the same name
, is their largest project in terms of scope and atmosphere. The addition of a huge orchestra to give weight and depth to the music turns songs into epic scenes ("Le renversement", "L'embauche", "Fantasme"). They have adapted well to the "score" format, which is create atmosphere and add drama, a skill purveyors like Clint Mansell have down to a fine art.
Iris
could be bigger, but A Winged Victory For The Sullen are one of the more minimal ambient acts of this decade. Drama will come with more experience and bigger assignments, but for now,
Iris
stands alone as another well put together record from a group that's injecting enthusiasm and life into the genre.
Jacaszek - KWIATY
You've probably seen a lot of promo for producer Jacaszek's new album, and it's likely the work of electronic staple label Ghostly International. Sometimes ambient music falls through the cracks and even the most devoted miss out on new releases, but Jacaszek has been in all the tape decks in March 2017.
KWIATY
may be the best-constructed record of his career. The ethereal voices flit surreptitiously between background and foreground, creating more conventional tracks, like "To Blossoms", and incredible immersive experiences, like "Soft Music" or "Love". The album doesn't ebb and flow, it oscillates between ambience and overt electronica. Jacaszek prefers to really play his music, to use conventional instruments in such a way as to create the illusion of computer-generated sounds. This is always preferable if done with skill and poise, and
KWIATY
is a truly unique project, something that isn't easy to achieve in 2017.
Ben Frost - Music From Fortitude
Who else to craft a soundtrack for a TV show set in the Arctic Circle? It might put some people off, this certainly isn't an immersive listen. "Is He A Good Sheriff or a Bad Sheriff?" through "There is always a first time for everything" is nigh-on unlistenable, with snippets of dialogue and panic attack synths ruining the mood of "Welcome to Fortitude". You can easily snatch a great playlist out of the project though. Cut the dialogue out and just marvel at Frost's ability to take on one of the most popular topics in ambient music, the cold, with fresh eyes and new perspectives.
Mike Cooper - Reluctant Swimmer / Virtual Surfer
Cooper drops by with as varied and diverse a project as he's released in years. The first track "Reluctant Swimmer" is like Fennesz before computers, a rockabilly concoction that sits comfortably over warm scratches reminiscent of a vinyl record. Oddly cosmic flutters transition into a cover of "Movies if Magic" by Van Dyke, with Cooper singing away and playing a guitar like a wobble board. "Virtual Surfer" is a sci-fi game set on a beach, with sounds of nature contrasted with electronic stabs you'd expect to hear in an MRI machine. Cooper pushes boundaries, and it's delightful to watch the way his mind works on wax.
Lawrence English - Cruel Optimism
Cruel Optimism
harbours some devastating moments, no more so than "Hammering a Screw", where he slips in some old-fashioned Nick Cave violence, cold and unrelenting. The album seems to favour a dystopian path towards redemption and knowledge. "Objection of Projection" is the final piece in a disquieting 5 song sequence, before "Somnambulist" and "Moribund Territories" signal something of a new day. The disconnected vocals invoke images of new life beginning on some distant, mysterious planet.